Greetings! Days continue to pass and the weather is hot! I'm continuing to work on rewrites and edits for Misty Revenge! Medicine is still busy in New Jersey. Unfortunately, our Retransmission Rate is climbing a bit so we have to continue taking precautions. As our thoughts turn to Fall, we need to continue to find some activities which will keep us safe. I mentioned a suggestion to two friends today – Buy More Books!! We can always travel and escape with a book. Who are some of your favorite authors? What are you currently reading? Are you a seasonal reader like me? More about that on the next blog post!
WRITER'S ROOM #3 – Are you part of a writing group? There are many different groups to support you as a writer. Local writing groups, critique groups, and writer's workshops. There are also specific groups to join such as Sisters in Crime – where male and female writers will find support. Mystery Writers of America, Romance Writers of America, and many others. Most of the activities are now online for free or minimal expense. That's a lot of useful education about your craft. There are helpful links for writers and I'm including one below – From Writer's Digest – this is a list of the 101 best websites for writers. Start here and continue to follow blogs and tips from experienced writers. https://www.writersdigest.com/tag/best-websites-for-writers
READER'S CORNER – VISIT THE JERSEY SHORE VIRTUALLY!! Jane Kelly – Jane is the author of the Meg Daniels novels, mysteries with a humorous twist. The books, featuring amateur sleuth Meg Daniels, are set in New Jersey beach resorts. Meg has solved mysteries in Ocean City, Cape May, Long Beach Island, Atlantic City, Seaside Heights and Ventnor City.
Greetings from Ventnor City is the 5th installment in the Meg Daniels Mysteries. I've included the link here! https://www.amazon.com/Greetings-Ventnor-Daniels-Mystery-Mysteries-ebook/dp/B082VK12H6 If you're just starting to read Jane Kelly – the first book is Killing Time in Ocean City. I've also included the link to her website. http://janekellymystery.homestead.com/jk.html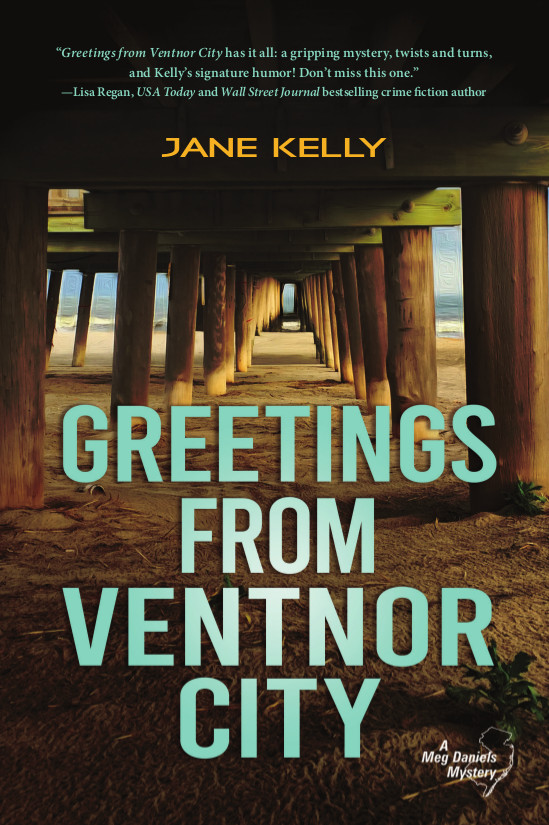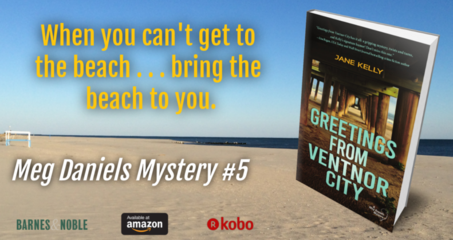 Thanks for stopping by!! Visit my website – lindarawlins.com and Sign up for my newsletter to stay connected! Hope to see you between the pages soon. Stay Safe and read!